Podcast: Play in new window | Download (79.2MB)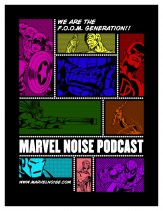 Our usual host, David is away on tour, leaving Steve, Kevin, Andrew, & Phil to talk about the All-New Marvel NOW! Doop #1, Iron Fist – The Living Weapon #1, & Amazing Spider-Man #1, as well as the Fantomex MAX, Captain America – Living Legend, and What If – Age of Ultron limited series! Enjoy!
Catch up with us on Twitter @marvelnoise and leave us an iTunes review….it's fun!